发布日期:2020-08-25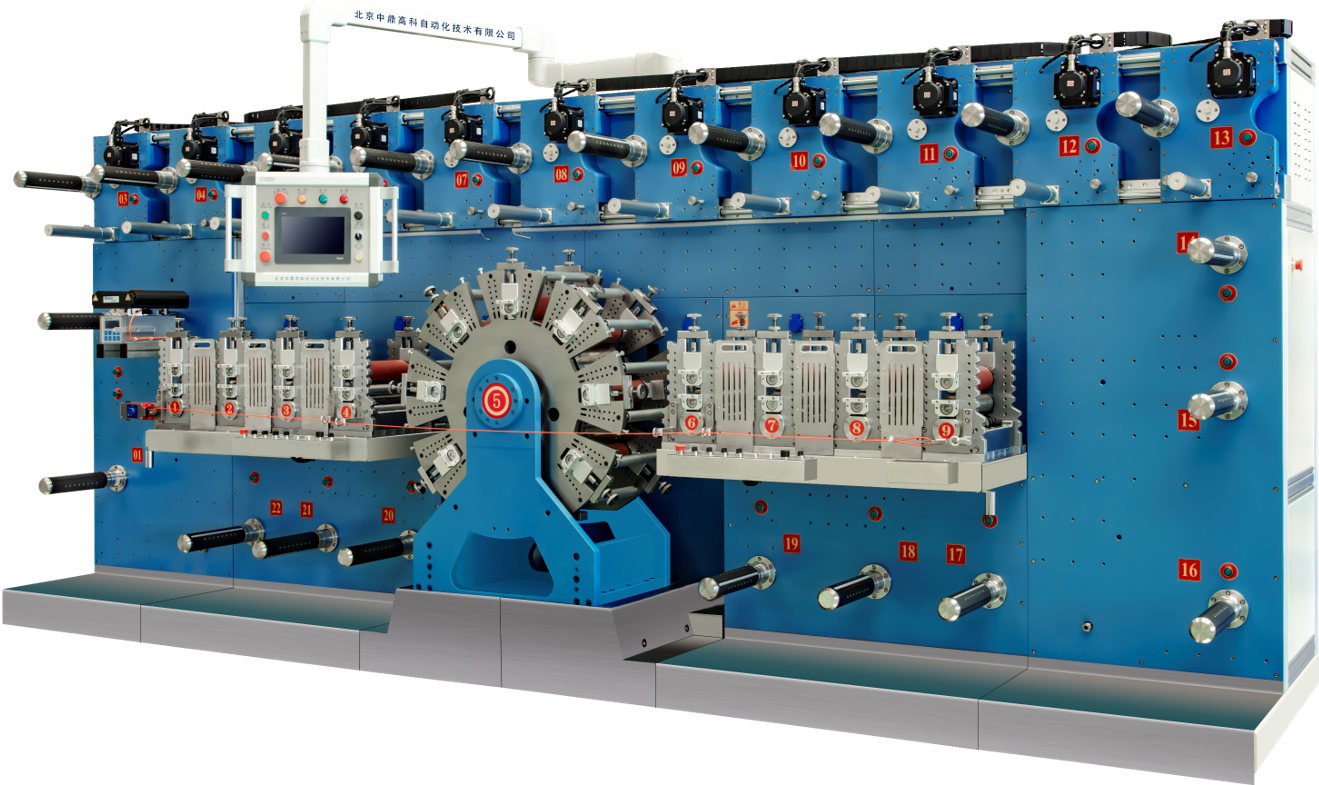 主要性能特点:
1. 具有自主知识产权的模切专用控制器,采用国际先进工业级64位4核ARM+DSP处理器、多CPU并行运算控制及时钟同步技术、自学习多轴交叉耦合控制技术,避免串行通讯列队延迟对控制精度的影响,64轴控制周期可以达到500μS;
2. 支持256通道高速接口,能够配合我司自主开发的专用视觉控制系统,实现多组视觉信息在线检测和信息反馈;
具备模切专用功能指令库,能够快速响应客户特殊定制工艺及特殊功能开发;
1. 操作系统:为10寸触摸屏,操作简单、方便、灵活, 工位另配有独立操作盒;
2. 自主研发的控制系统,功能可定向开发;
3. 专用的模切同步控制系统,同步周期短,响应快;
4. 具有工艺参数存储功能,调用灵活;
5. 最高速度60米/分钟;
6. 最大入料宽幅250mm;
7. 每套模切工位均由单独的伺服系统驱动,实现各工位独立启、停、正转、反转、同步、比例、微调等功能;
8. 每套料轴均由单独的伺服系统驱动,通用于收料、放料、改变方向、拟人化启动;
9. 具有纠偏功能:能实现主入料轴Y方向自动调整;
10. 独立式调刀装置,更便于刀轴的位置调整;
11. 计片、计米报警停机功能,能够按设定数量自动控制设备停止;
12. 各收、放料轴可分别选择自动恒张力控制或恒转矩控制模式;
13. 断料报警停机功能,料轴材料用完或断料后控制设备自动停机,防止料头卷入设备;
14. 各收放料轴均配有一键式启动/停止按钮,更便于操作人员换料作业;
15. 具有异步功能:实现小片贴大片,多片分组裁断,有效节约成本;
16. 具有自由式双速系统功能:能够一台设备同时生产两种不同速度要求的产品,刀座选择速度可任意组合,提高设备利用率,实现更多复杂工艺;
17. 具有自动套准功能:能实现按照设定尺寸自动套准,套位精准;
18. S刀座可独立使用,产品精度更高;
19. 可任意组合刀座,高速同步生产,实现更复杂、多元化的工艺,不仅能提高产品制作精度,同时也提高了产品制作效率;
20. 可多扩展3-6模切工位,节省空间,提高设备利用率;
21. 具有定长套切功能:能够实现自由定点套切、产品等间距排列、避让片材断点等用途;提高材料利用率,降低成本;
22. 批次记录功能;
23. AB刀交替套切功能;
24. Z-CAM功能;
25. 跟随功能;
26. 预置卷径报警系统;
27. 具有除静电功能:能实现去除材料上的静电;(可选)
28. 具有安全保护功能:能实现接近设备危险区域自动停止运行,最大限度保护人身安全;(可选)
29. 具有CCD自动套准功能:工控人机交互操作系统,配15寸触显,能实现CCD自动检测和微调,实现高效自动化。(可选)
30. 配合CCD应用喷码机标废功能;(可选)
31. 可配滑动操作盒;(可选)
32. 支持安装我公司首创自主开发的CMS管理系统;(可选)
33. 无线数显模具压力预警系统;(可选)
34. 语音预警系统;(可选)
35. 外部信号暂停功能;(可选)
36. 低气压预警系统;(可选)
37. 料轴Y向手动调整系统;(可选)
38. 料轴Y向自动调整系统;(可选)
39. 收集码垛系统;(可选)
40. 厚度检测系统;(可选)
主要技术参数:
1. 型号S4134250
2. 材料形式卷状
3. 最大入料宽幅 250mm
4. 最高速度 60米/分钟
5. 额定功率 35KW
6. 额定电压 380V±10%
7. 外形尺寸 5260X1470X2600mm (L*W*H) (含垫铁,运行灯)
8. 整机重量 7.8吨
S Series Rotary Die Cutting Machine S
Performance Characteristics
Special die cutting controller with exclusive proprietary intellectual property rights, adopts the most advanced 64 bits quad-core ARM+DSP processor, multi CPU parallel operation control and clock synchronization technology, auto tuning coupling technology with multiaxial crossing, to avoid effects on control precision by serial communication queue delay. The control cycle of 64 axis can reach 500μS.
Supports 256 channel high-speed interface, fits self-developed visual control system to realize on-line testing and message feedback of multigroup visual information.
An instruction library of die cutting functions, quick response to customization and development of special functions.
1. Operating system: 10-inch touch screen, easy to operate, convenient and flexible, the station is equipped with an independent operation box.
2. Self-developed control system, function customization can be realized.
3. Synchronous control system for die cutting with short synchronous period and quick response.
4. With the function of Storing all process parameters for each product, and flexible call.
5. Maximum cutting speed of 60 meters/min.
6. Maximum material width of 250 mm.
7. Each set of die cutting station is controlled by certain servo drive for start, stop, forward, reverse, synchro, scale, trimming functions.
8. Each set of material shafts is driven by a separate servo system, which is used for receiving, discharging, changing direction, and anthropomorphic start-up.
9. With rectification function: automaticallyadjust the Y direction of the main feed axis.
10. The die-cutting tool speed can be easily adjusted independently.
11. The chip and meter alarm stop function can automatically control the device to stop according to the set quantity.
12. Each receiving and discharging axis can select automatic constant tension control or constant torque control mode respectively.
13. Island placement modules available, registered dispensing of smaller die cut components onto other components, or pre-printed web features, minimizes material waste.
14. Each of the retractable material shafts is equipped with a one-button start/stop button, which is more convenient for the operator to refuel the operation.
15. With asynchronous function: realize small piece patching, multi-piece group cutting, effectively saving cost
16. Dual process capability: run two jobs at once, any combination of stations, unwinds and rewinds. Satisfy the requirements of complex products.
17. With automatic registration function: it can automatically register according to the set size, and the positioning is accurate;
18. S tool holder can be used independently, and the product precision is higher.
19. Arbitrary combination of tool holders, high-speed synchronous production, to achieve more complex and diversified processes, not only can improve product production accuracy, but also improve product production efficiency
20. Ability to expand 3-6 die cutting station, save space and improve equipment utilization
21. With fixed length cutting function: it can realize free fixed-point cutting, product spacing, avoiding sheet breakage, etc.; improve material utilization and reduce cost;
22. Batch recording function
23. Alternate cutting of AB knives
24. Z-CAM function
25. Tracking function
26. Alarm system for preset coil diameter
27. Static eliminator, reduces danger of shock and minimizes web debris.(optional)
28. With safety protection function: it can automatically stop running in the dangerous area of the equipment, and protect personal safety to the greatest extent; (optional)
29. CCD automatic detection registration function: CCD to adjust part position or check part position for improving product qualification rate and realizing efficient automation. (optional)
30. CCD automatic detection registration function: CCD to adjust part position or check part position for improving product qualification rate and realizing efficient automation. (optional)
31. Standard waste function of application code printer CCD (optional)
32. Fits with self-developed CMS management system (optional)
33. Alarm system for wireless digital die pressure (optional)
34. Voice alarm system (optional)
35. External signal pause function (optional)
36. Alarm system for low pressure (optional)
37. Manual adjustment system for Y axis feeding shaft (optional)
38. Auto adjustment system for Y axis feeding shaft (optional)
39. Collecting and stacking system (optional)
40. Thickness testing system (optional)
Performance Parameters
Model S4134250
Material Roll
Maximum material width 250mm
Maximum speed 60m/min
Rated power 35KW
Rated voltage 380V±10%
Dimensions 5260X1470X2600mm (L*W*H) (including machine feet, running light)
Weight 7.8T